On Sunday 2nd July 2023, London's famous Hyde Park once again hosted an incredible line-up as part of this summer's BST Hyde Park festival. With the sun shining, we arrived in the late afternoon to experience some festivities, great food and live music.
As with previous years, once inside the BST Hyde Park grounds, you immediately forget you're in the heart of the city. This year there was a relaxed vibe and lots of picnic blankets as everyone lazed around, conserving energy for the Great Oak Stage's main event that evening. There was a sense of anticipation for what lay ahead – this would be BLACKPINK's UK festival debut and their fans (known as Blinks) were out in force. We passed so many groups of teenage girls in spectacular outfits as well as lots of parents with young daughters.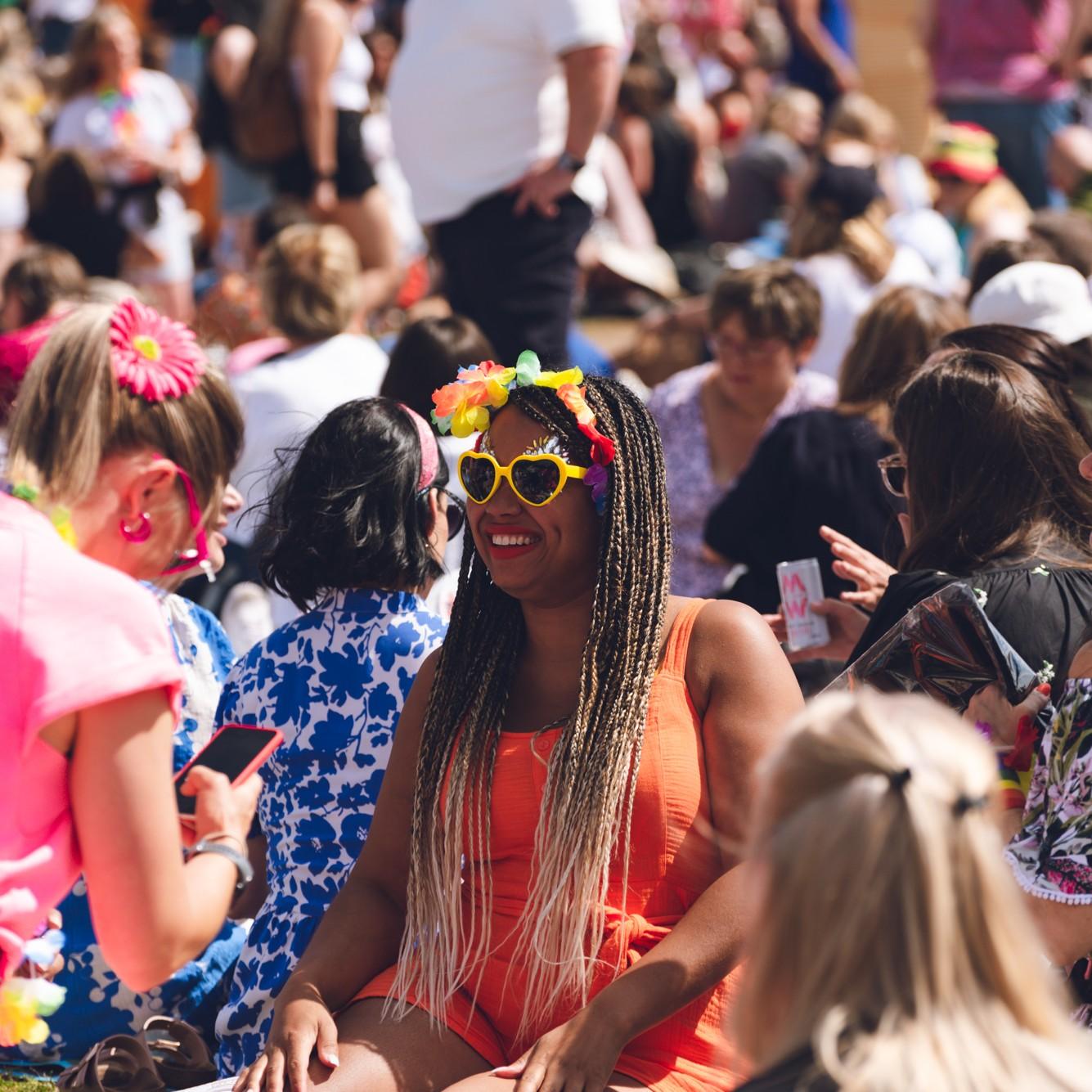 The whole day's line-up was certainly geared around Girl Power, and our first stop when we arrived was to see Dublin-based singer-songwriter Sarah Crean, who was playing on the smaller Birdcage stage. Dressed in black with a cherry red guitar, she performed a relaxed acoustic set amongst the trees, telling the crowd that this was her first festival and that she too was excited for BLACKPINK's performance later.
At 5.55pm we had found a spot by the Rainbow Stage for Rebecca Black's energetic set, which got the lively crowd screaming along to her pop hits. Then it was back to the Great Oak Stage to take a place for US actress-turned-singer Sabrina Carpenter's set. Dressed in a tiny and shiny pink dress, she gave another high-energy performance, stopping in between songs to speak to the crowd. Referencing her two British Shorthair cats, Benny and Bjorn, she treated the audience to a gorgeous cover of ABBA classic "Save All Your Love For Me" before closing out her set with her hit song, "Nonsense".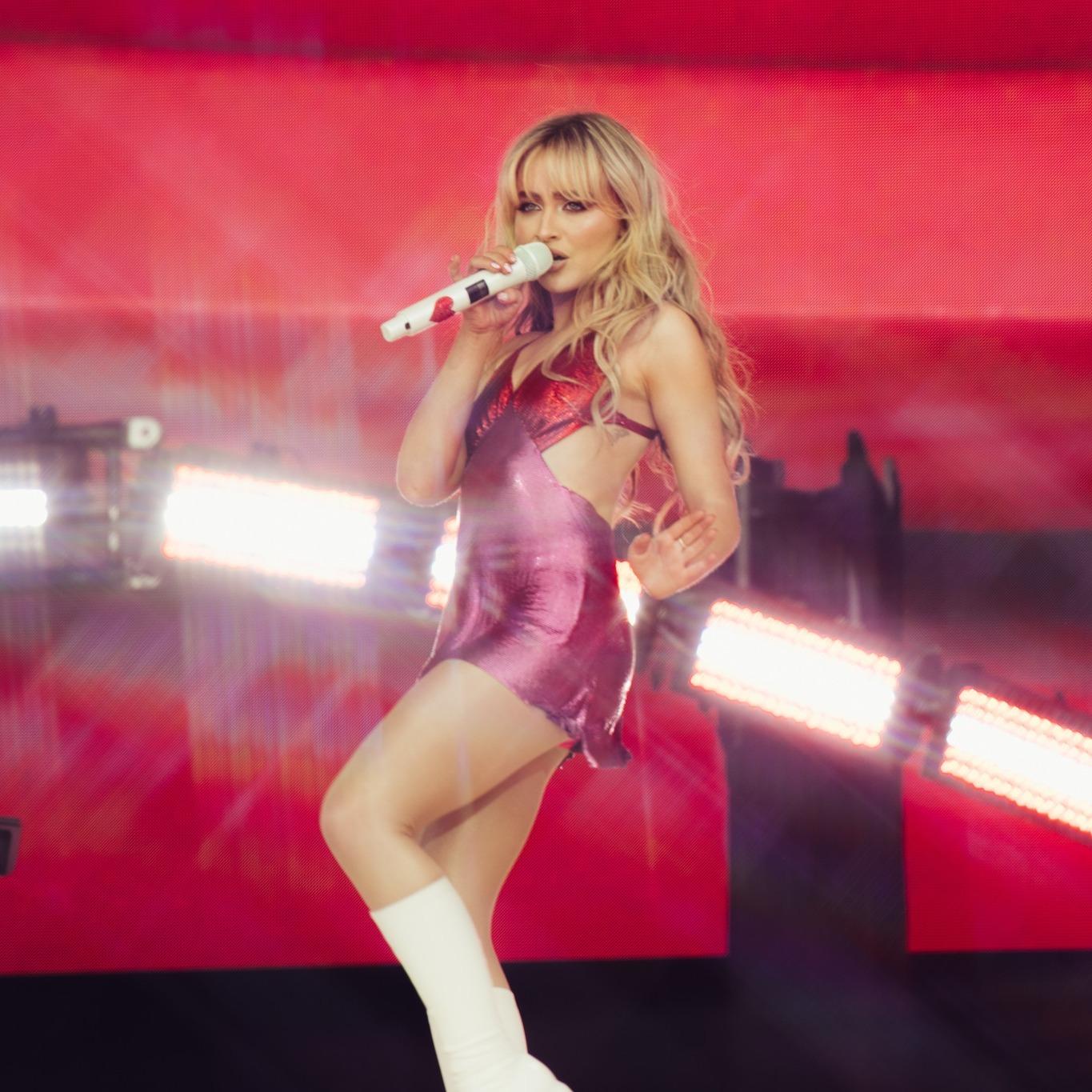 BLACKPINK were due out at 8.55pm, so we took the time to grab some food from one of the many food stalls – settling for a pepperoni pizza and cheesy garlic pizza bread which was hot out of the oven. We then bought a couple of ciders to take with us as we headed back to find a spot for BLACKPINK.
The quartet were late coming out, and by 9.15pm everyone's excitement had reached a fever pitch – helped by the speakers pumping out some of the group's top hits while we waited. And then the band kicked in and the dancers appeared – and it became very clear that we had a real show on our hands.
For festival sets, bands typically bring a stripped-back version of their shows – but for BLACKPINK, a stripped-back version is still a huge production. Their dancers were incredibly tight and when the silhouettes of Jisoo, Jennie, Rosé, and Lisa appeared at the back of the stage, the crowd was roaring in delight. The K-Pop girl group are known for their charismatic and magnetic performances, and their stage presence was undeniable. Opening with their hit track "Pink Venom" the group immediately proved why they are global superstars, with their precise and perfectly synchronised choreography and pitch-perfect vocals.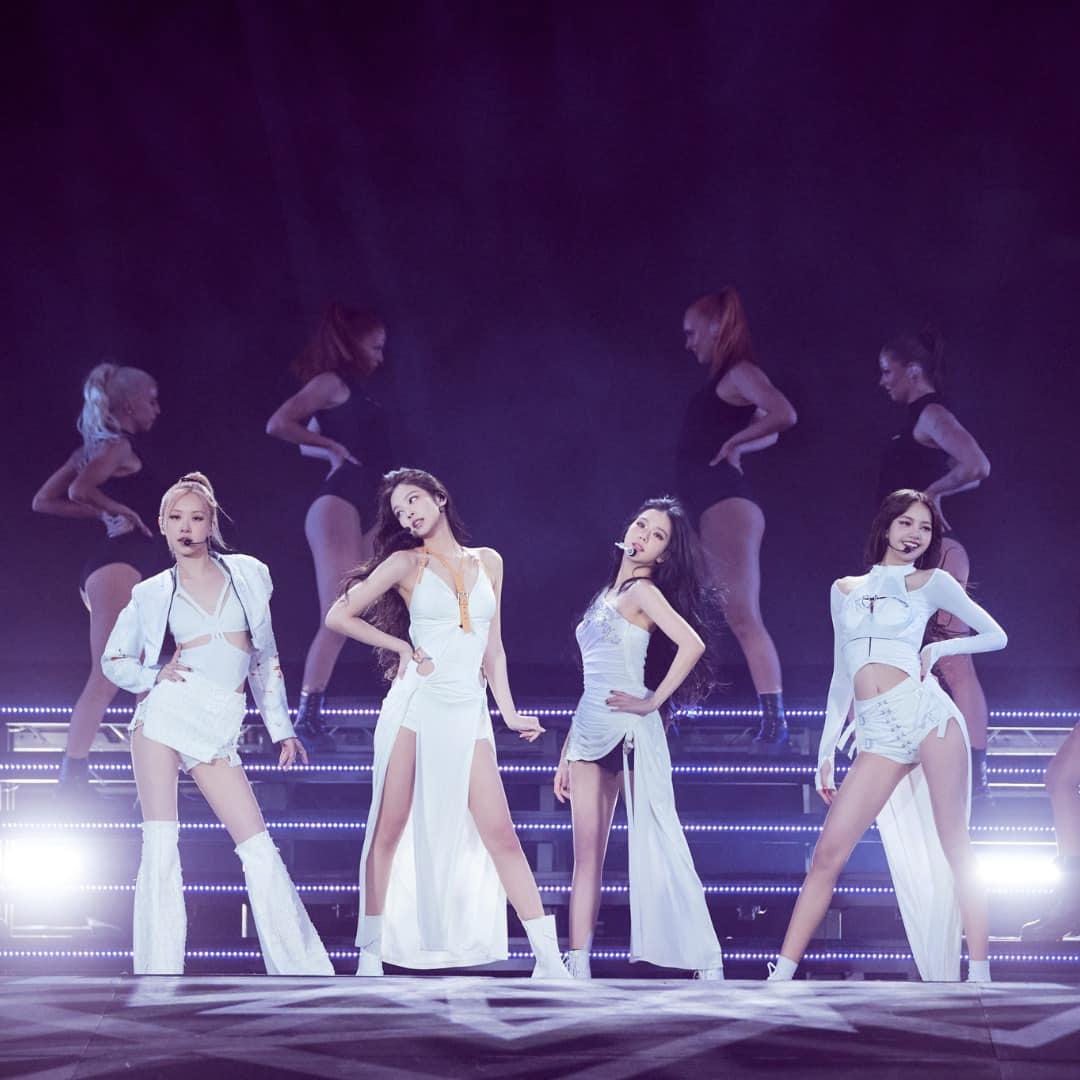 The set was very close to their recent Coachella performance – with the only notable absence being one of their biggest songs "Kill This Love". The show was split into three acts – Act One was full of some of their biggest chart-toppers and ended with "Whistle" and an enthusiastic dance break while the band rushed off stage for costume changes and a hard-earned breather.
Act Two gave each member of the group their own moment to shine, displaying their individual vocal skills and unique styles with their solo performances. Jennie was up first, with her song "You and Me", followed by Jisoo with "Flower". Rosé gave a medley performance of her hits "Gone" and "On The Ground", ending with a huge streamer cannon that went off over the stage and blew giant white streamers across the lighting and sound rig, which stayed there for the rest of the show. Finally, Lisa took her turn with "Money".
Then it was time for Act Three, which brought the quartet back together again for more of their biggest songs including "Playing With Fire" and "DDU-DU DDU-DU", with Rosé, who grew up in New Zealand and Australia, leading the conversation in English with the crowd and encouraging them to sing along.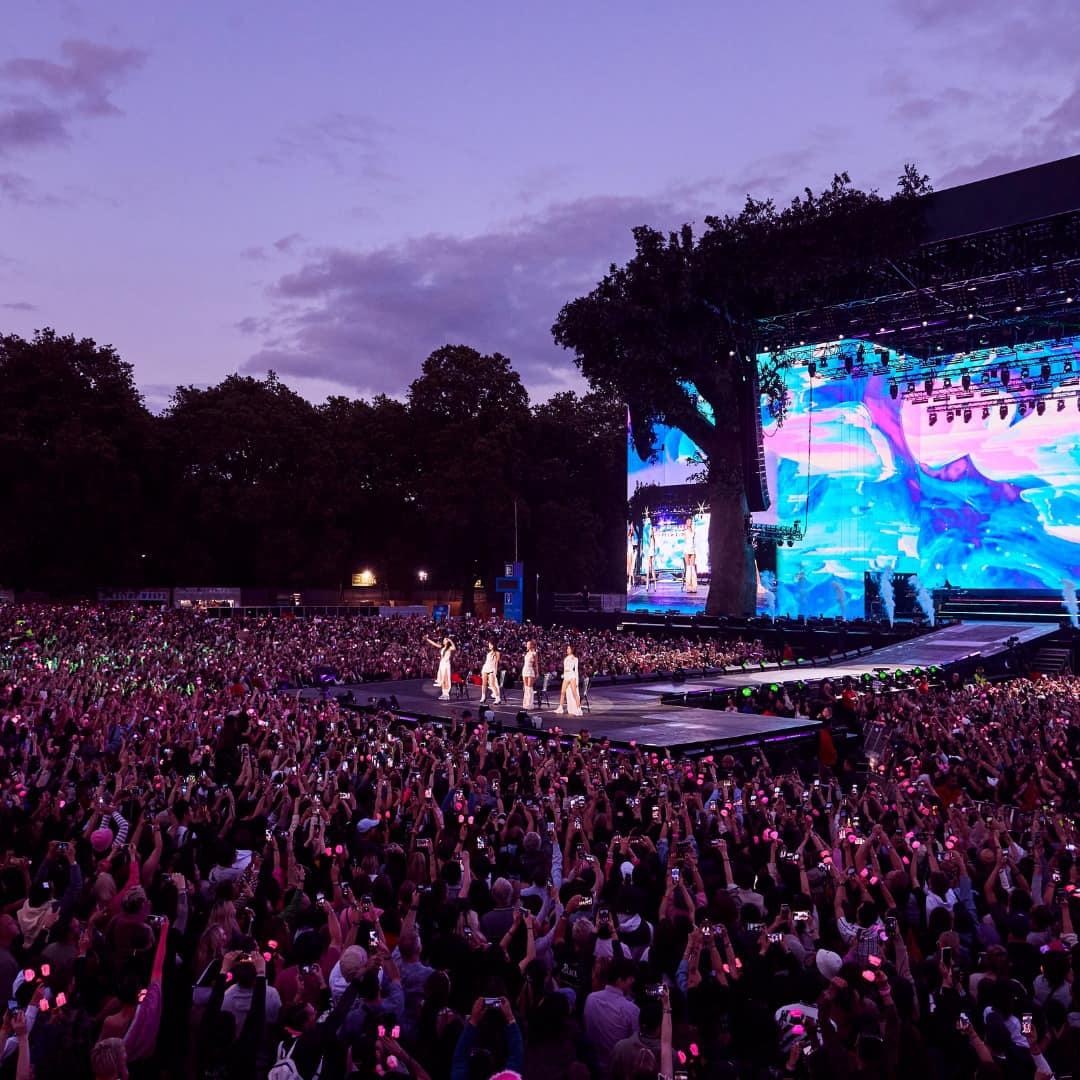 The vibrant LED screens showcased BLACKPINK's choreography throughout the night, as they made full use of the stage and the catwalk that took them into the crowd. As the concert drew to a close, all four of the group were elevated above the crowd on a platform, where they stood with their arms wrapped around each other looking as thrilled to be there as the BST audience were to have them. The show closed with BLACKPINK's hit "Forever Young", before they waved goodbye to the screaming fans as they were lowered back into the stage and disappeared from sight.
Although the set felt quite short – with the costume changes, changeovers between the acts and the late start, the total performance time was less than 80 minutes – the crowd were leaving in raptures. I asked a girl who looked to be about ten who had been standing near us with her mother whether she had enjoyed it. "Oh yes!" she said. "Best night of her life so far," her mother added with a smile.