Stepping through the gates at the Mauritian Open Air festival, you could have been fooled to think you'd been transported to the tropical Island in the Indian Ocean. Mauritian Sega Music was blaring loud, wafts of the local cuisine could be smelt and snippets of the local language of creole could be heard, all in a North London park basking in the early throws of the UK's July heatwave.
Located a 10 minute walk from Cockfosters underground station, there was a palpable sense of excitement on the walk up. The annual festival is very much family friendly and welcoming to all, with live Mauritian music from both UK and Mauritian acts and a mix of food, from Mauritian cuisine to paella, burgers and ice creams. Being a second generation Mauritian, I had grown up with the food and the music and had also been to previous festivals, my vegan girlfriend however had never been, so I was hoping for good food and music!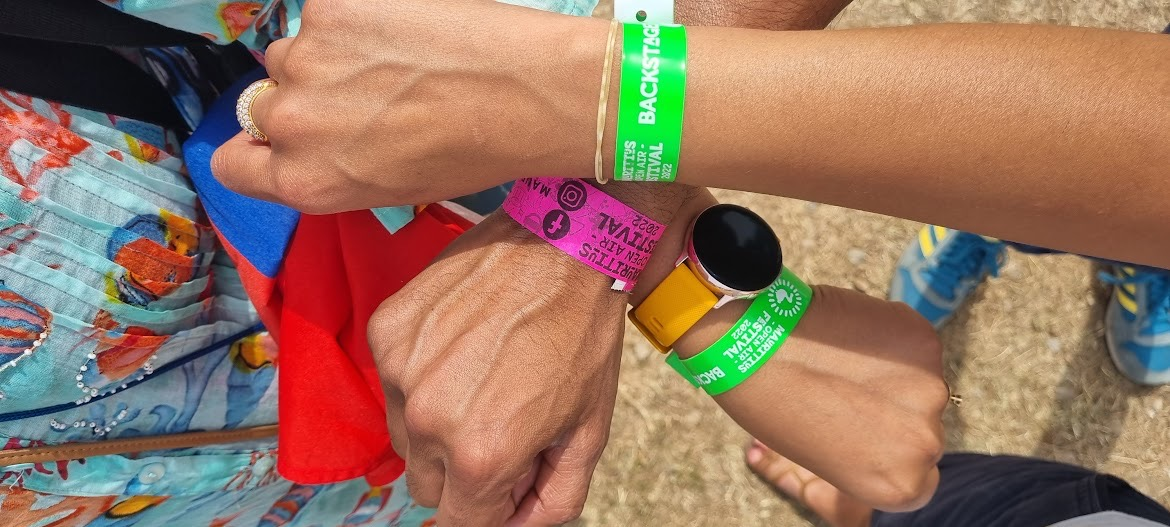 We arrived around 1.30pm (gates opened at 12pm), with the festival already looking busy, and immediately started looking out for the nearest big tree to seek shade from the unusually hot UK summer sun (31C rather than the 38C+ that followed during the next few days). But were grateful to see they had set up a few marquees to provide shade, so next on the list was to sample the food and hope there were enough vegan options to satisfy my other half.
First up food wise was a taste of what Mauritian street food had to offer in the form of a (Vegan friendly) Dholl Puri, a yellow split pea pancake wrap. You get a pair of Dholl Puri pancakes with your choice of filling. We chose a cooked tomato based sauce called a Rougaille, with a butter bean curry and a little bit of chilli. Having had these before in Mauritius, I know what these should taste like, and also know how they sometimes taste of here (not great), but I was taken back to a Mauritian street on my first bite. Each Dholl Puri pancake needs to be soft, not too thick or thin and with a powdery middle and thankfully these were exactly that, and thankfully my girlfriend was equally impressed.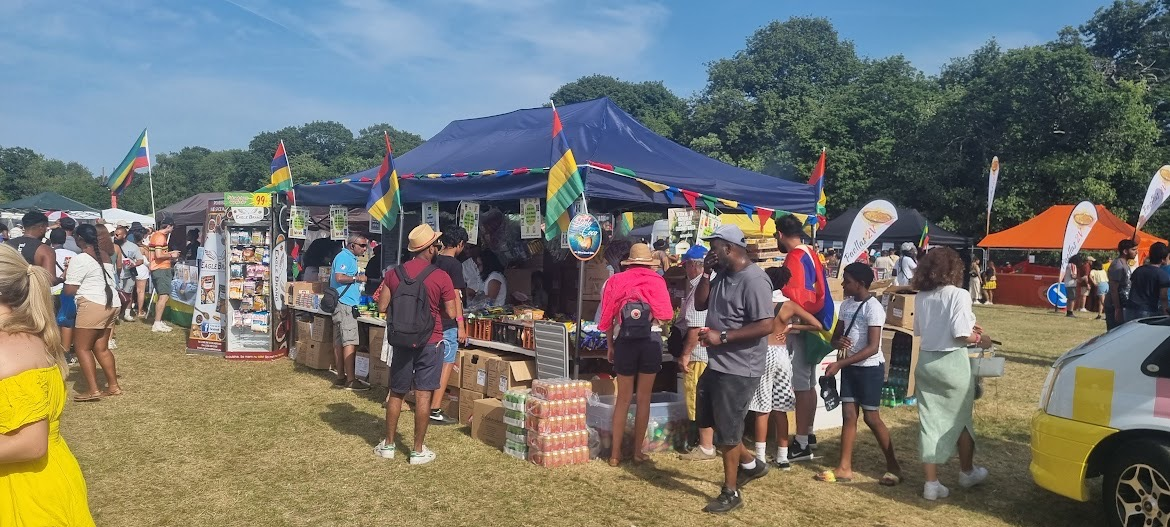 We also indulged in Samosas, Gateau Piment (a savoury small ball of dholl, mixed with spring onions and chilli), Vindaye Poisson (fried fish in various spices), Achard (pickled fruit and veg such as pineapple, cucumber and olives- which my girlfriend particularly enjoyed!), Alouda (a sweet milk based drink), Briyani, an almond fizzy drink made by Eski, as some fresh coconut milk and cream and some sweet treats, all of which tasted amazing, and there was plenty more we didn't try.
As lineups for Mauritian Open Air festivals, this must have been up there with the best, live music was provided by The Prophecy, Bigg Frankii and big hitters (of the Mauritian Sega world) Laura Beg, Alain Ramanisum with Désiré François & Cassiya closing things out. Along with live music there was Sega dancing and DJ sets keeping the good vibes going. I hadn't heard of Bigg Frankii prior, but after his set I immediately added a few his songs to my Spotify! Alain Ramanisum was definitely the stand out act for us though, playing many of his biggest hits and large chunks of the crowd singing along and everyone enjoying themselves, I would certainly suggest looking up 'Li Tourner' to get a little taste.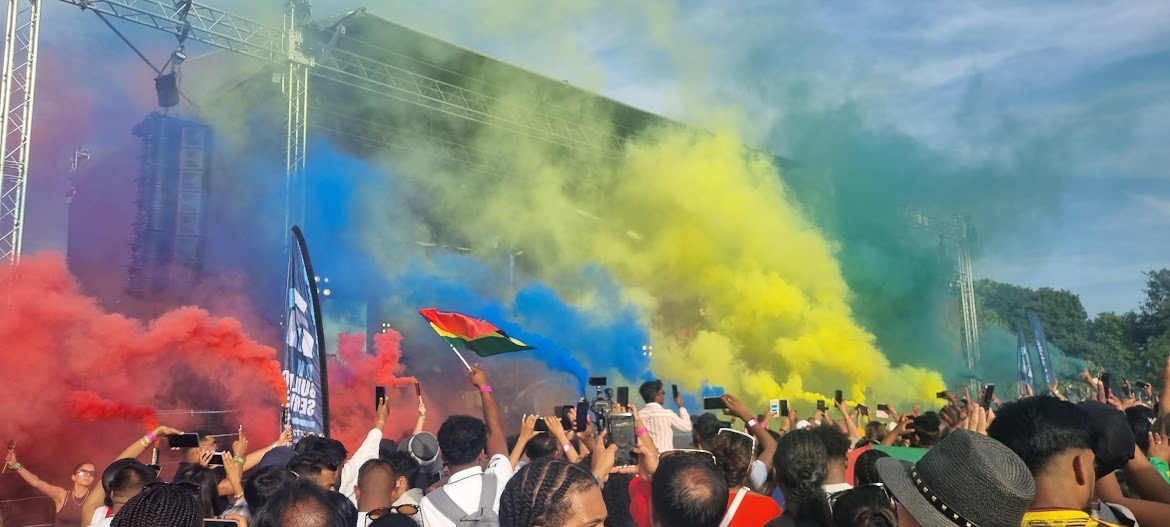 There were also face painting and a fairground with various rides, and stores selling foods and spices usually found in Mauritius. The famous local beer called Phoenix was also on sale with the queue for it growing the longer the day went on!
Overall we had a great day, the food and entertainment were amazing and I (and my non Mauritian girlfriend) would thoroughly recommend it no matter where you're from, with enough options for Vegetarians and Vegans and enough room to roam and relax. Our only complaint is the lines for the food and drink can be a bit long, but it was well worth the wait.