It may be late November, but you could have easily been fooled it was Christmas as you entered Taste of London. The festive spirit was in full swing as you were welcomed by a flurry of fake snow, surrounded by fairy lights and excited attendees wrapped up in their winter knitwear.

After two years out of the festival calendar, it was more eagerly anticipated than ever. Taste of London, situated at the beautiful Tobacco Dock in East London, hosted some of the finest restaurants and artisans in London. It ran over four days, and you had the choice to book an afternoon or evening session each lasting around 5 hours.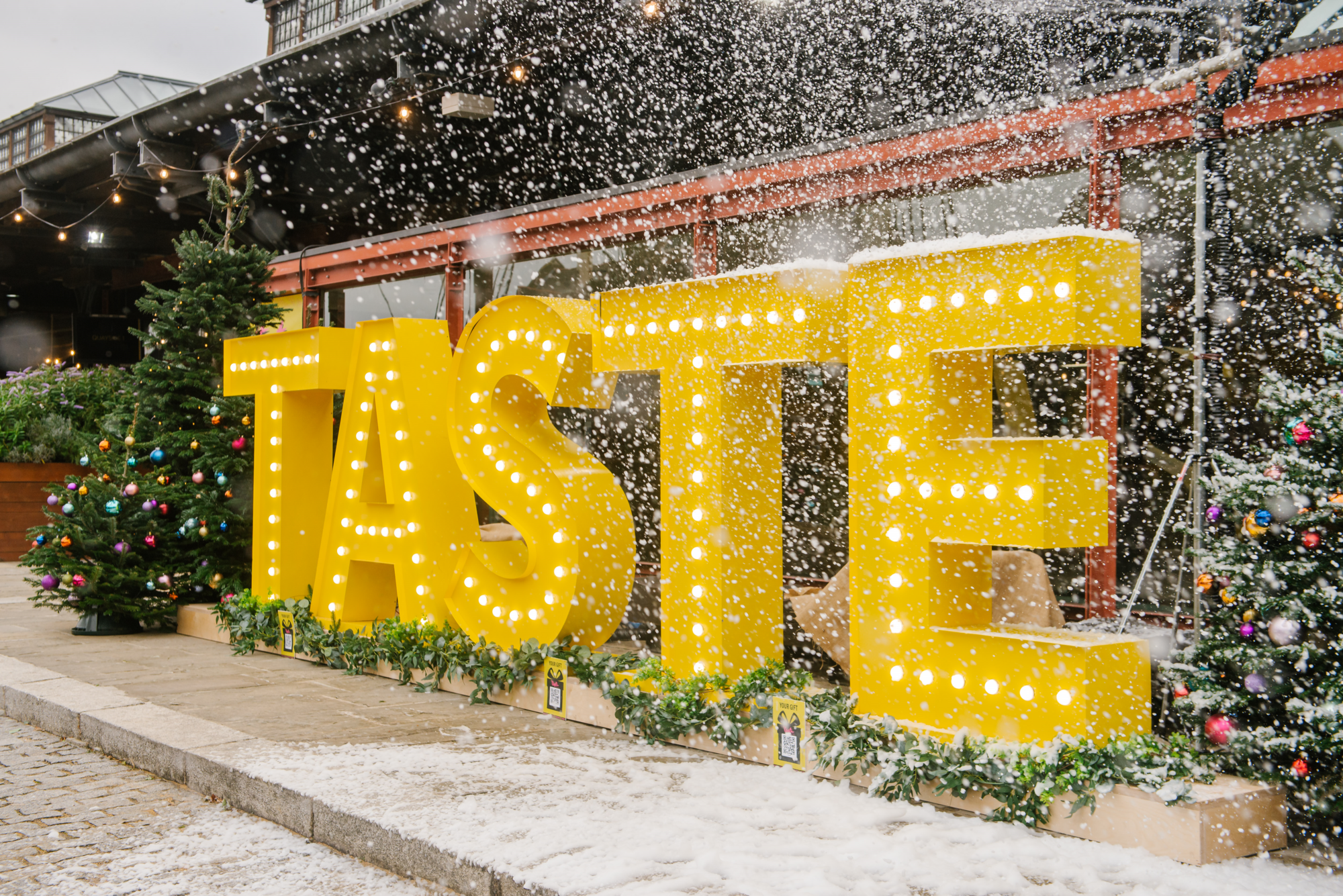 Having gone to many food festivals, often the organisers sell over capacity, creating queues and in general, a less enjoyable experience. We were very pleasantly surprised that the amount of attendees created a lovely balance of buzz from the level of people there, but also a short waiting time at each of the stalls we went to.

A lot of people we chatted to at the event had a full planned out itinerary of what they wanted to eat/drink throughout the day, but we thought we'd take the different tactic of going with where the smells and tastes took us. Our first stop was the Little Gallery which was a collection of various craft beer producers. One of our favourites here was an elderflower beer which went down dangerously easy. After that we got a coffee, but to our delight and surprise they also served up some unreal fluffy Japanese pancakes. Check out Coffee Addict, you won't be disappointed.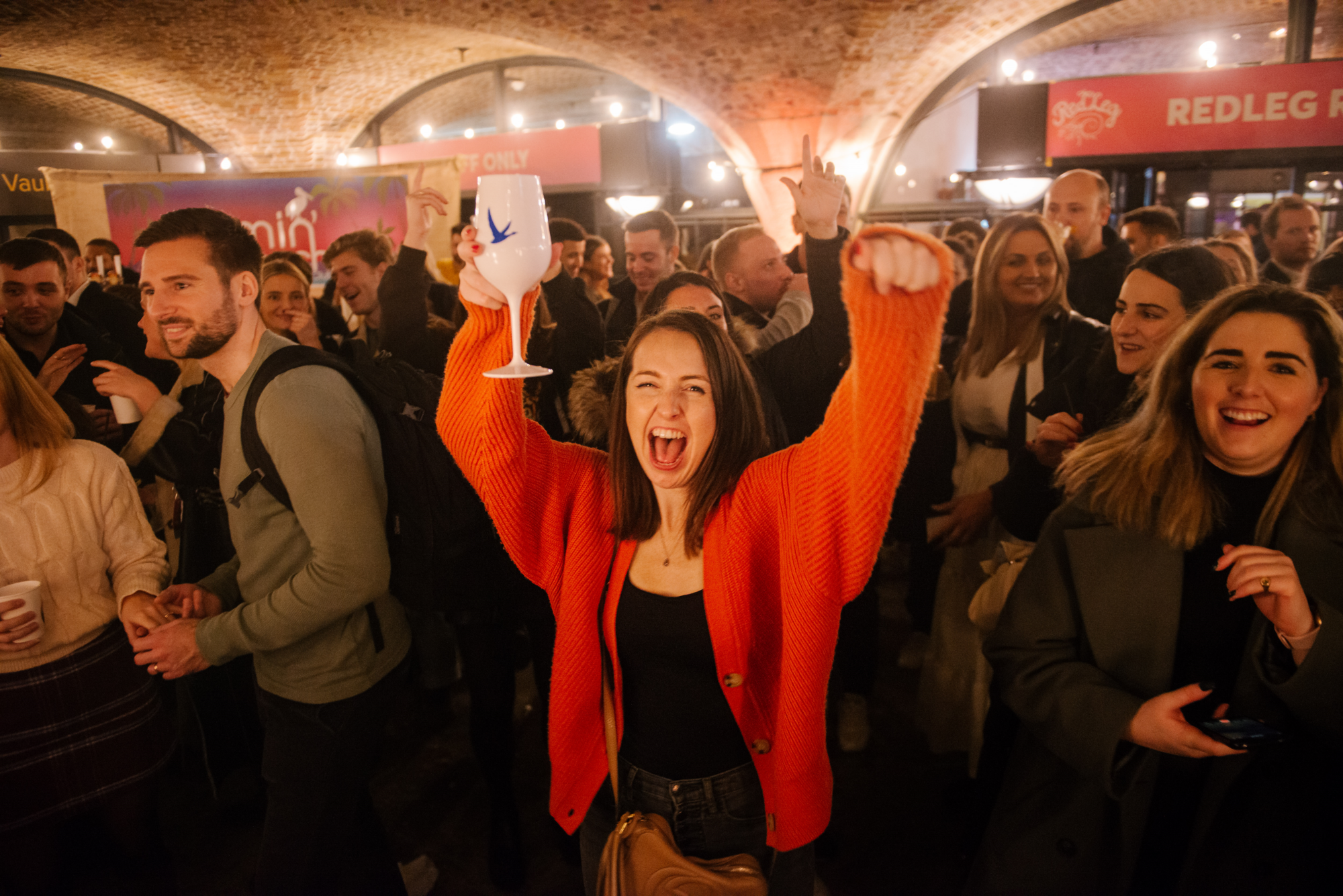 Not far away from there was the Laurent-Perrier champagne room, it's 'Christmas' after all why not treat ourselves! Feeling a bit peckish we'd heard a few people talk up Jaffna Kitchen, and more specifically the soft-shell crab taco. This was in the Producers Market area. The taco was so delicious, so much that I'm already planning a visit to their restaurant in South-West London. We also tried Heritage, which was a fondue style restaurant, a solid spot for all the cheese lovers.
Making our way downstairs, we picked up some mulled rum punch which was everything you wanted it to be – sweet and spicy with a boozy hit. We sipped on this whilst we watched Tiny Rebel put on a show in the Fire Pit, getting us hungry again to try some more food. Already thinking about dessert, we picked up a selection of (huge) cookies from West Bakes each with a different topping. There was Freddo, Oreo, Biscoff and Kinder Bueno. One place I had my eye on was Anju, and naturally with my love my chicken wings I had to try these. They were full of flavour and crunch, exactly what you'd want from Korean fried chicken. As the afternoon session was closing, it was apt that it came to a close with a piano rendition and sing-along of 'Hey Jude'.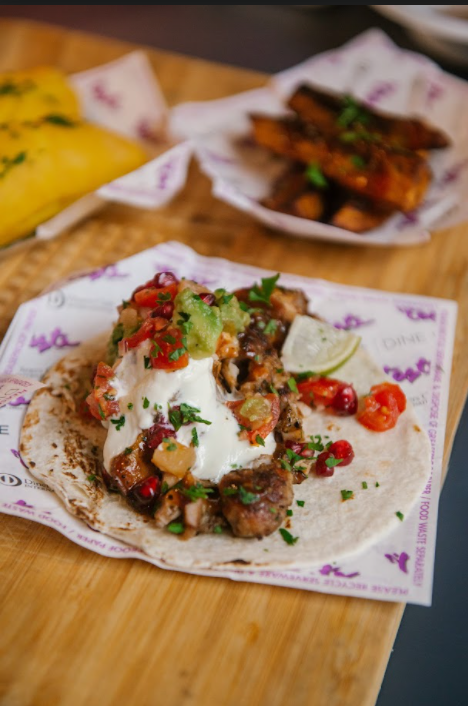 There were many tasting sessions and talks that people were attending, but we didn't get a chance unfortunately and also a crazy-golf course which we definitely would've done if we had some more time!

Having now gone to the summer version, and festive version of Taste of London we can truly say the food options are great, as well as the artisan producers the organisers select. We look forward to coming next year for the summer event at Regents Park 15th – 19th June 2022.
Sign up here, and you can be the first to hear about tickets.