With it's inaugural Friday added to the bill for this year's festival, Junction 2 is rapidly growing. It is now bigger and better. This year they return with more variety in music, new stages, and a line-up that will make you giggle with disbelief. So, with a whole extra day to shake a leg, arm and whatever else we might be inspired to shake, we headed down to Boston Manor Park to check it out.
If you've never been before, it must be said that Junction 2 simply has it all. As well as a magical location, each stage has its very own unique personality and charm. Wide and open, the Main Stage is now surrounded by large long viewing balconies big and sturdy enough for the hordes of house skankers and techno stompers. With the sunlight reflecting off GlaxoSmithKlein's prominent office building, this stage area felt almost dystopian. The Warehouse, with its dirty underground rave vibe, set in a large darkened tent made it easy to get lost within yourself ... and in the crowd.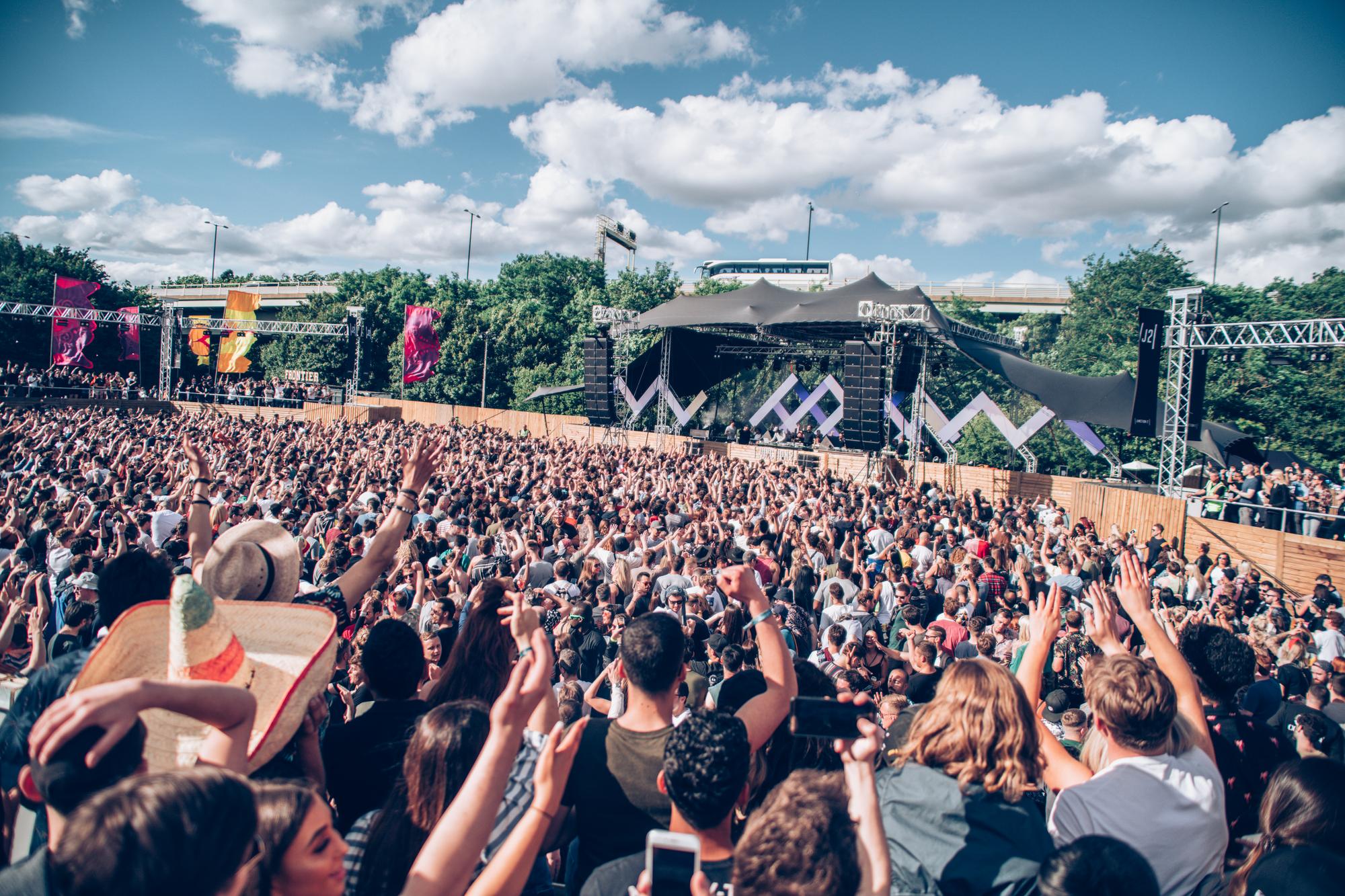 The Stretch, a classic festival tent party had a sound system that seduced surrounding crowds, beckoning them in like a pied piper. Hidden in the woodlands was the aptly named The Woods stage, an enchanting setting where witchcraft and wizardry takes place on the decks. And last but far from least, The Bridge, a stage that can only be felt and comprehended in the flesh. This stage could only be accessed through a Lord Of The Rings-esque journey, descending a steep hill and crossing a river with Mordor in the distance.
Despite Friday's weather forecast, the sun often showed its face and we still found ourselves gazing at the heavens. The occasional showers of rain were met with free ponchos, so there was no chance of stopping these festival-goers from boogieing to the grooving house disco beats of Mr G. and Gilles Peterson. For a slightly drier experience, we flew down to The Warehouse with only the laser lighting and DJ for illumination. Holding the fort was DJ Stingray dropping some punchy electro, followed by the distinctive style of Objekt.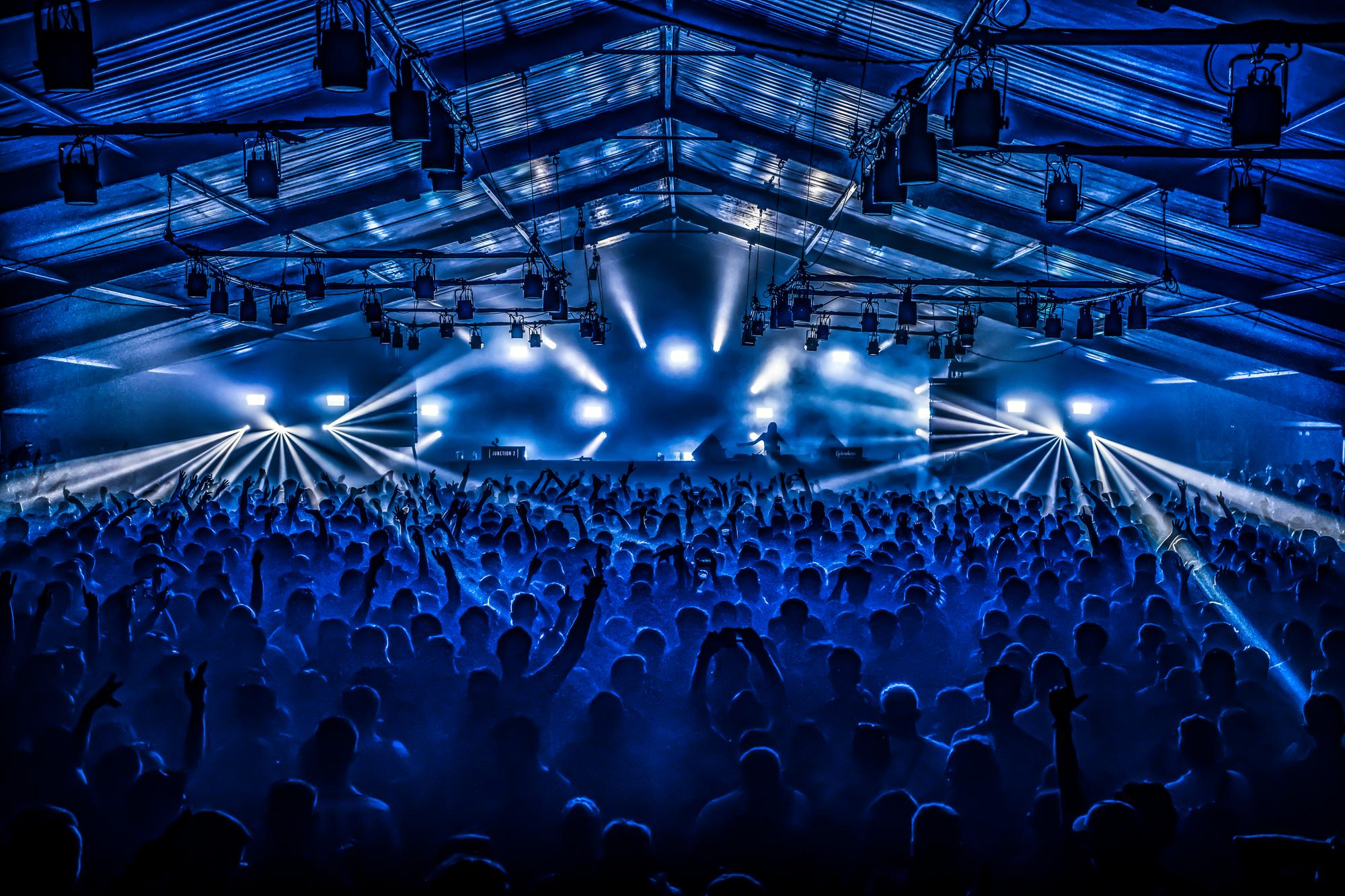 With so much more to see and hear, we took to exploring stopping momentarily to enjoy disco house producer and DJ, Motor City Drum Ensemble, at The Stretch. After a small adventure through the woodlands, we ventured to The Bridge for Dixon. Deep under the M4, whilst cars obliviously drove above, The Bridge never failed to awe us. The spectacular location with dust rising from the pounding feet below continued to impress throughout the weekend. DJ, Producer and music label boss, Dixon, effortlessly projected us to other worlds with melodic bangers that will make you forget you have feet.
Ending the day, Ricardo Villalobos' absence from the B2B didn't stop Craig Richards from owning The Bridge as if he'd built it brick by brick himself, while Bicep gripped the main stage with one of their reputable breath-taking DJ sets.
Saturday gave us brighter, clearer skies as we trekked to Boston Manor from East London for the second half of the Junction 2 shenanigans. Punters filtered in beneath the dramatic bridge towering above as a sense of exploration and expectation awaited all. Upon entry, thumping beats in the distance filled our hearts with excitement. As expected, the crowd was bigger but the energy still loving and divine. The day blessed us with even more legends, from Maceo Plex to Amelie Lens, from Loco Dice to Richie Hawtin, and of course, the magnificent Adam Beyer. The J2 crew even found time and space to build an oversized music production booth, a nice touch for those budding music makers.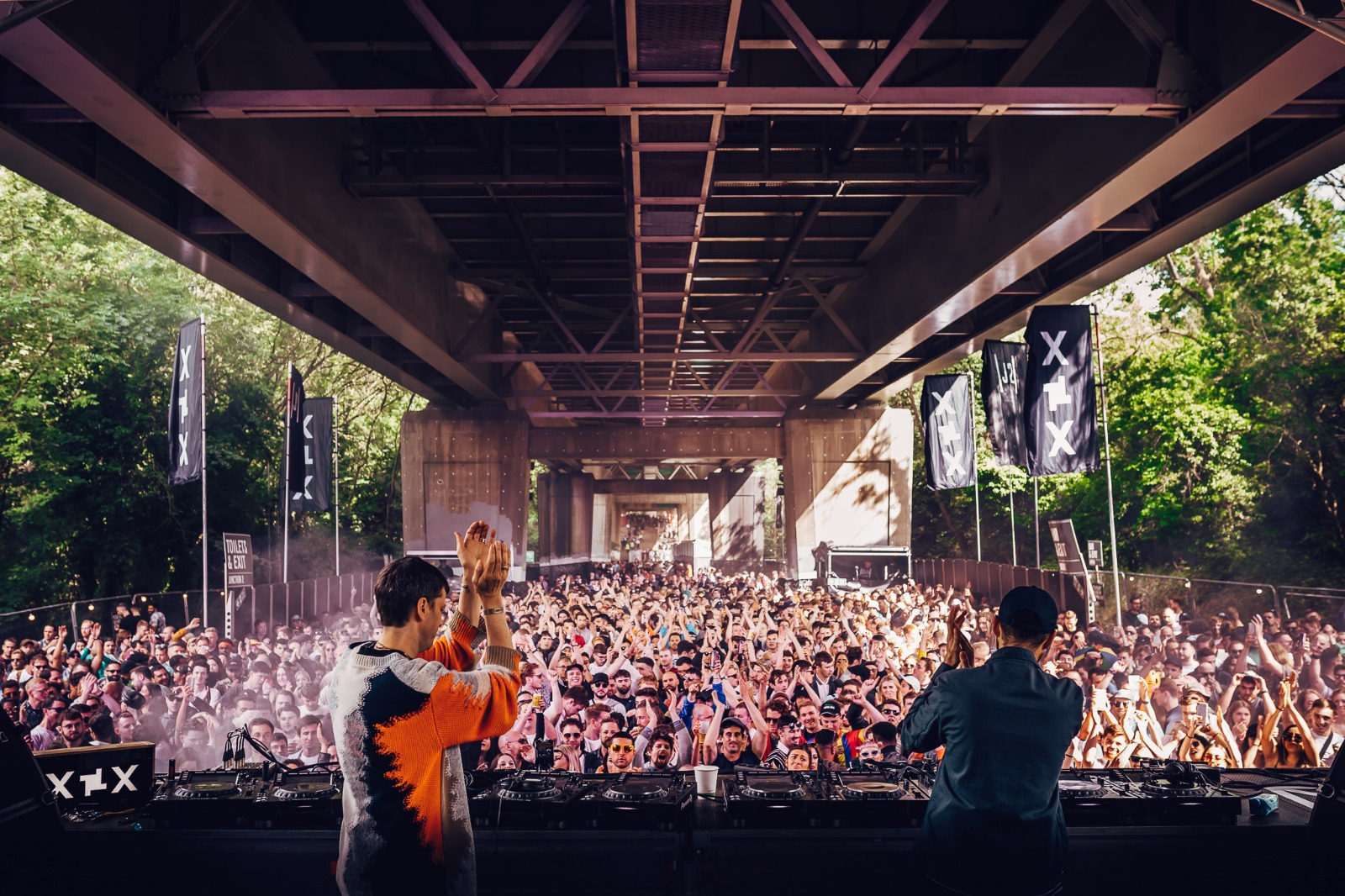 With so much going on, we drifted from stage to stage trying to catch a glimpse of it all, but as fans of minimal techno we head into the woodlands. Within the oasis of the twinkling open air woods, a community was created. Hanging disco lights from the trees framed a minimal DJ booth where people swayed to the likes of Sonja Moonear and Nicolas Lutz. Closing the festival, founder of Drumcode Records, Adam Beyer used his techno DJ magic to induce tribal marching in dance form, as fans lost themselves in the music.
All in all a Glastonbury-esque atmosphere was conjured via the diverse range of stages constructed within Boston Manor Park's grounds. Luckily for all the British weather held off and delivered an unexpectedly sunny weekend. So, if you're a disco, house and techno enthusiast, or just a music fan seeking an amazing London festival, Junction 2 is probably the festival for you. Fancy skipping work on a Friday too? Well, you'll have no regrets while throwing down to some disco, house and techno legends As avid festival goers, with a eye for critique, Junction 2 is now top of our list for London day festivals. Let's see what the rest of summer 2019 brings!