Situated in Cambridgeshire, at the site previously used for Secret Garden Party, Gilles Peterson, Brownswood Recording (Gilles' music label) and Worldwide FM curate the event described as a family-friendly Jazz Festival. Only an hour and thirty minutes' drive from London, the festival boasts of its lakes, forest, range of music, independent cinema, record fair, family kids areas, boutique luxury camping, and family camping. With such an emphasis on family we as expected had some reservations.
As we arrived, we noticed the subtle energies of the land and its unquestionable perfection for festivities and for being danced on. Fairground rides painted the landscape and night sky, while being welcomed to the soothing sounds of vibey dub reggae and the merry gate security. We soon knew this was going to be a special festival.
Although the festival was described predominantly as Jazz, the line-up was incredibly diverse with artists, bands and DJ's covering reggae, world music, soul, hip hop, R&B, house, garage, disco, techno, drum & bass, and jungle. Adding to this indulgent variety was a record store that doubled up as a DJ tent, filled with an assortment of records in near mint condition, vinyl accessories, and of course, a dance floor.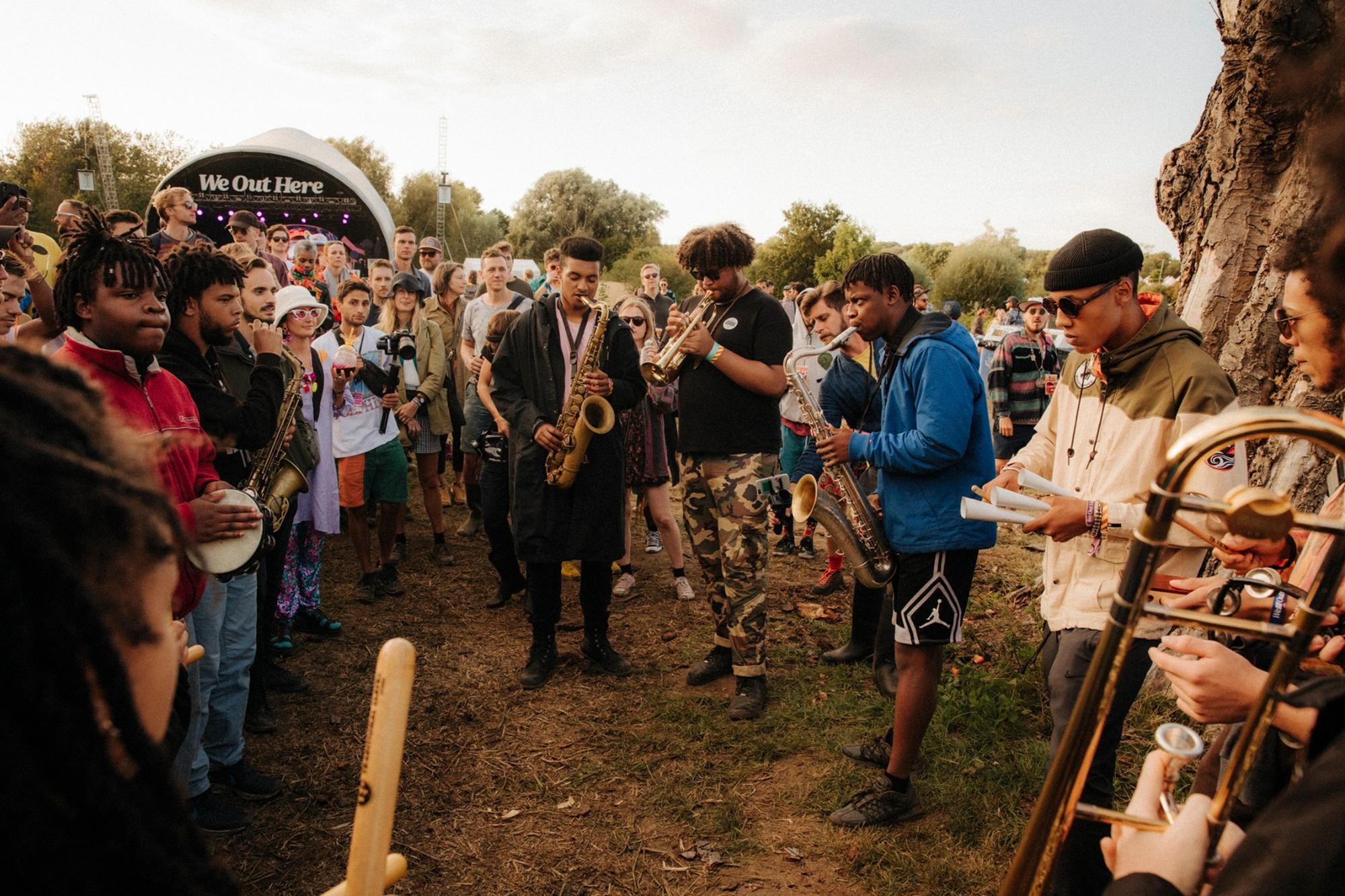 With this big range, the festival captured all you could musically want from a festival. Taking the finest from each genre, this was a festival by and for music lovers, which in itself seems a ridiculous statement. However, from beginning to end, the festival promoted minimal hassle; maximum focus on music, vibes, energy and togetherness. Because of this, a beautiful community was created filling the land with respect, love of good music and love for one another.
We Out Here subscribed to inclusiveness of not only musical genres but also of age. Being family friend, we often found ourselves partying with parents and their children at all areas of the festival and at all times of day, which brought about a youthful energy. Klarna's smooth sanctuary area also boasted a paddling pond for children along with a fabulous fresh juice bar that make the finest apple and ginger smoothie in the land. Deck chairs, room to dance, and a range of DJ's playing fun down tempo grooves gave this area its own chilled magic.
Early each morning after the sun had risen and ravers had rested, the swimming lake, yoga & run dem club rejuvenated festival goers. Massage and wellness were an integral part of the weekend for many, particularly parents. While the dodgems entertained children and adults alike, it made the 'mindfulness-nap time yoga' very much required!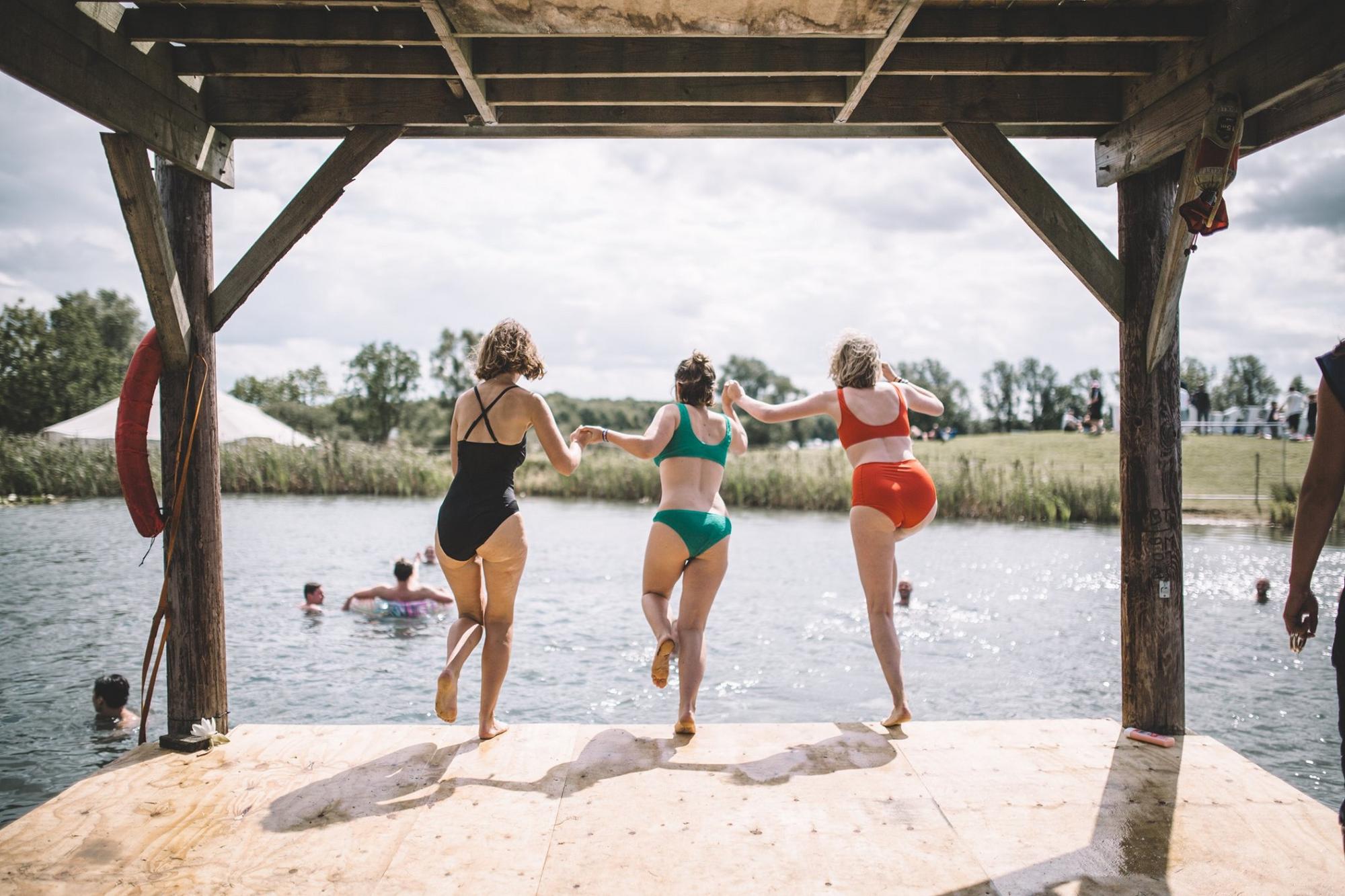 During the daytime while some swam and chilled out around the lake, at which a long jetty stretched out into the centre of the water, others explored the glorious selection of music and food. Brawnswood and Lemon Lounge were two of our favourite music tents for seeing the likes of Mr Redley, Eliza Rose and Zakia.
Another beautiful lake and a scene of nature swept the panorama of the main stage as festival goers soaked in the energies of the sun and the music from up on the hill, or boogied down in front of the stage. At night, the main stage truly came to life as the sorcery of the lighting breathed magic into the entire area with shimmering reflections visible in lake. Dancing, of which there was plenty, came to a standstill during Auntie Flo's performance when Andrew Ashong made a request for 'a couple of dancers' to join him on stage. Panic ensued when the stage immediately filled with eager enthusiastic bodies and a concerned stage manager. After hard work and embarrassment the stage cleared and the show continued!
When the sun sets and the night deepens, most head for the Rhythm Corner, the Woodlands or for bed (and if boutique camping, why not enjoy the extra comfort?). The Rhythm Corner, a pit-like area, with music varying from house and techno to jungle beats had big scene names like Haai, Skee Mask, Objekt and Bryan Gee hold the fort. While entering the Woodlands always felt like entering a mystical forest world, with a pub ideal for cosying up with friends or hanging out on the veranda; two areas of music with the likes of Theo Parrish and Alexander Nut; and a circular tree house sat high above the trees that over-looked the entire site, which at night was a glittering vision of colourful lights.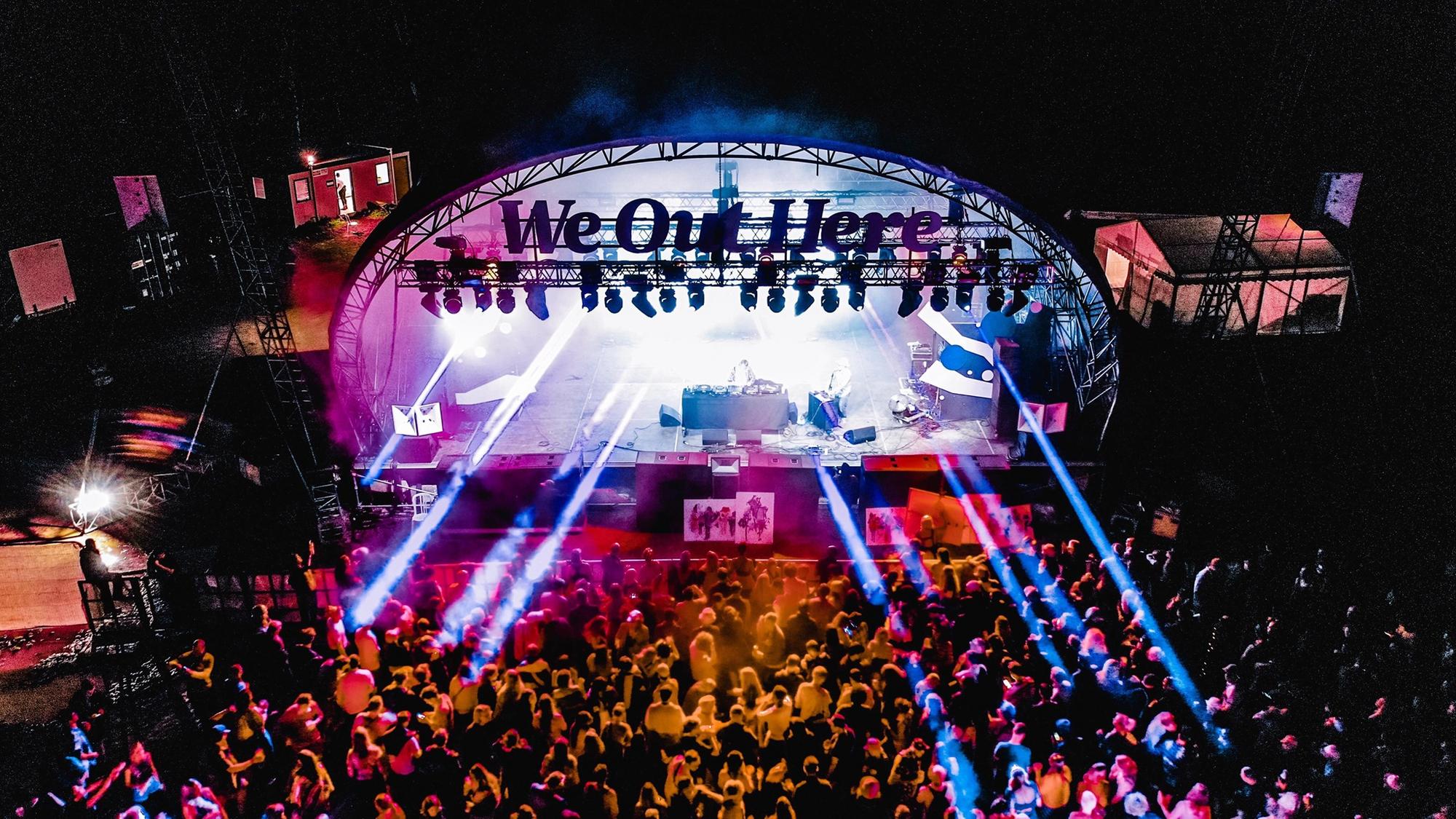 All of this was rounded off by the CHOOSE LOVE refugee charity dinners. Imad's Syrian kitchen supper club was a definite highlight. Small bowls of delicious watermelon salads, falafel, hummus, breads and larger bowls of smoked rice and curries were served on long tables where people ate, drank and befriended one another before the night of dancing began. A great opportunity for charitable giving, making new friends and feeding the positive community vibe.
Aside from constructive criticism about the standard of toilets and a desire for more water points, all those that we spoke to had the most positive feelings about the festival with some claiming it as their new staple festival. Initially, we were sceptical about the 'cater for all' approach. But we left the festival realising that Gilles is on to something. We Out Here is more than a 'Worldwide Family Gathering' …it's the festival that so many of us have been waiting for.