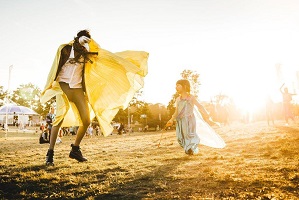 As we approached the ancient woods and park-land that hosts Wilderness it became abundantly clear we were about to enter a festival that was far off the beaten track, both in terms of its offerings and location.
Students, couples, hen parties and families were amongst the demographic Wilderness had attracted and catering to such a wide variety of individuals could have proven difficult. However, this is where Wilderness excelled. We were provided with a wealth of activities to keep people of all ages satisfied, from children's play areas and arts and crafts to self-improvement workshops, medieval-like banquets and hot tubs to relax in, not to mention a huge cricket match on the last day – complete with streakers!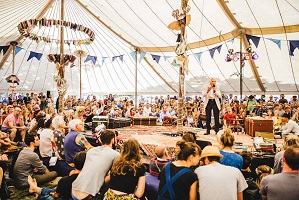 As you know, with any camping festival the weather is a key protagonist, with its capability to completely alter your camping experience, but luckily, the weather across the four days of Wilderness was not only pleasant, but perfect – without a cloud in sight. The campsites themselves were in great condition and you didn't have to go far to find a wide array of tasty breakfast dishes from Eggs Benedict to Cheese Toasties.
The more we explored, the more we came to realise that Wilderness, now in its sixth year, is one of those unique festivals that harks back to yesteryear with an almost hippy-esque vibe at times, offering a refreshing change from the intensity that other music festivals can sometimes bring. In fact, it seemed as though music had taken a slight backseat to all of the wonderment on offer and with meditation tents and people lathering mud over their naked bodies before taking a dip in the lake. It was almost as though the spirit of Woodstock had been channelled into this festival – perhaps not a coincidence considering the location of this festival is pretty close to Woodstock, Oxford.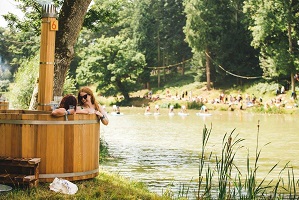 On Friday night the crowd were treated to an incredible performance from former Led Zeppelin frontman Robert Plant, before moving onto The Valley for an after party with close to 3000 attendees all stomping their feet to an array of funky and house influenced beats. Looking up at the clear, star-filled night sky whilst lasers flicked across the beautiful woodland surrounding The Valley only added to the mystique and magic that Wilderness offers.
Across the weekend we were also treated to sensational performances from acts such as Lianne La Havas, whilst we also took in performances in such interesting locations as a fun fair carousel. Normally at a festival, once the music stops the party is over, however, Wilderness is no ordinary festival and in true Wilderness fashion we were treated to an impromptu Samba inspired bongo drum performance. The band, complete with a vocalist, marched across the festival campus like the Pied Piper with a host of revellers in tow, whistling and bouncing along to the music.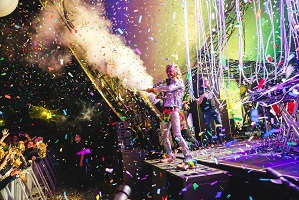 One gripe that did come up was with the programme, which was quite cluttered and not too easy on the eye when trying to figure out which artists were performing when and on which stage. However, this was a minor complaint in the grand scheme of things considering Wilderness provides a platform to express yourself and create your own festival experience – if you want a wild day and an even wilder night then you can, whereas if you're after a chilled out day expressing your creative nature and a cool night in a lake watching the stars under the clear night sky then feel free – the world of Wilderness is your oyster!
Get your very limited early bird tickets here.