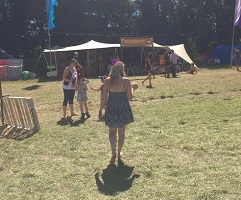 As we made our way across the English countryside into the heart of the West Country, this Festival For You reporter knew we were about to have an experience like no other. Excitement built as I recalled the countless number of friends, also frequent festivalgoers, who had told me what "a wicked time they had last year". The outside world rushed by the coach window as we wound our away along a sun-drenched M1 towards an unforgettable weekend at Fieldview Festival 2016.
Founded by the Cameron brothers ten years ago, Fieldview was celebrating its ten-year anniversary so we all knew there was something special waiting for us just around the corner. With a capacity of only 3000 people, the prospect of carrying all our gear across a small field in Wiltshire was also not too daunting – quite the contrast to the larger festivals attracting tens of thousands of people year in year out.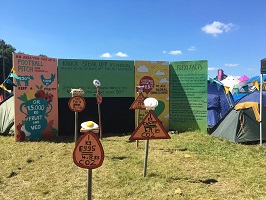 This refreshing intimacy hit us as soon as we entered the festival site: one field, a few stages and an adventure waiting to begin. The mauve, glittery wristband spelled out your team for the next two days – 'The Sorcerers' and 'Cosmic Unicorns' featured among others – and gave a clue to the interactive nature of the weekend.
The sun beat down on us as we cracked open our first cans of beer and began setting up our tents in the glorious English sunshine. We took the opportunity to relax before the music, art, games and workshops and art were in full flow.
Prior to the festival a 'Countdown to Fieldview' email was sent around by the festival organisers. This "cosmic mail" had your usual festival information within it, however it also contained information on how festivalgoers could make the best of the magic themed weekend by offering some top tips for a cosmic adventure. We set out to try to meet each one of these.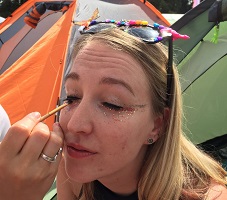 Firstly, the guilds our wristbands assigned us to were designed to get everyone involved and meet people you wouldn't normally meet. Near the entrance and over the crest of a small hill, the 'games area' featured each guild's crest surrounding a battle arena (a small patch of grass) in the middle. At game time we separated into our assigned guilds and nostalgic games were played, such as egg and spoon races, twister and blindfold Quidditch, which our guild actually won! It all made for great fun and entertainment. The hosts were loud, lairy, funny and entertaining. Here we completed two of the top tips: 'win a game for your chosen guild/team' and 'make ten new friends at least'.
Glitter and costumes featured heavily throughout the festival. A glittery superman and batman were spotted on the festival site, and everyone embraced this side of the festival. Although the theme of 'magic' was not always followed, many wacky, weird and wonderful outfits were spotted. ('Glitter' and 'costumes' were checked off the list.)
'Eat some cosmic food' was advised and, not being one to take food to festivals, the selection of locally sourced culinary delights on offer at Fieldview was thoroughly embraced by this reporter. For such a small festival the choice of delicious grub was excellent. Stone-baked pizza, Greek feta cheese wraps and mezzes of olives, hummus and salad were all enjoyed. It's fair to say that all tastes were catered for.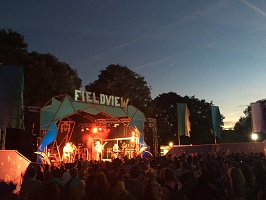 Friday night's headline musical act was the Leeds-based, seven-piece Submotion Orchestra. Formed in 2009, a wide-ranging set was played, including a fan favourite In Gold, which proved a hit with the (by now) tanned and sunburnt crowd. Late night entertainment came from an unknown DJ playing a magical selection of tunes late into the night.
Riding a unicorn proved a hard tip to meet. Many unicorns were spotted throughout the festival; these took the form of fellow festival attendees dressing up rather than actual unicorns. Or did they? The more this reporter enjoyed the selection of local beers and cider, the more these unicorns became real.
The musical entertainment on Saturday night came from headliners Melt Yourself Down. The punk, jazz-infused funk was an excellent way to top off a weekend that will live long in the memory.
Being a guru of larger festivals, only now have I realised just how unique smaller festivals, like Fieldview, can feel. I will be joining my friends in encouraging you all to put Fieldview at the top of your list for summer 2017. Just don't forget your glitter . . .