In its debut year, Boundary Brighton boasted to be a one-day dance music extravaganza, but given the already saturated festival market, and with ticket sales down, could Boundary deliver?
Well yes. Yes it did.
Arriving at 2pm, initially the festival felt slightly underwhelming without the huge crowds and hundreds of stalls you'd normally expect to see. The site itself seemed . . . cute. From walking in the gate, you could see all four stages and the two rides on offer; a pretty small site compared to most. However, after wandering around, and buying my tokens for the bar, I saw just how much thought and effort had gone into the decor and setup.
Each of the four stages, partnered with Brighton's leading music institutions, were done up to the nines. The Patterns X LWE stage spared no effort; with a warehouse style front, walking into the house was like walking into another dimension. The LED backdrop, lasers and faultless sound felt just like being transported into a much bigger, airier and less sweaty version of Patterns.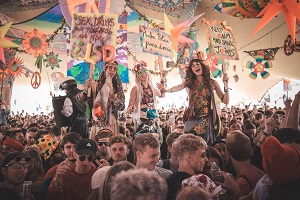 But Jackmaster still got us sweating! Renowned for his ability to mix a range of genres, starting with a housey jam, he soon mixed in techno and disco and got the festival off to a cracking start.
Over on the Elrow X The Arch stage, the marquee was made to feel like a psychedelic paradise; brightly coloured flowers, peace symbols, weed nuggets and doubies hanging above our heads made for an insane visual spectacle while the crowd danced away to Seth Troxler and Richy Ahmed. It felt like dancing in a neon splattered, slightly colder, Ibiza.
Up a little slope, perched on a hilltop, was the Boundary Bandstand. Krafty Kutz drew a large, enthusiastic crowd with their hip-hop and electro inspired sounds. But it was Jaguar Skills that really got everyone hyped. Playing his epic mash-up of, well, everything, in his typical mixtape, multi-genre, cut 'n' paste style, complete with trademark balaclava. I tell you – that ground was shaking!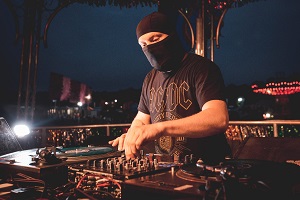 Back over inside the LWE stage, Joy Orbison headlined, giving the hard core Boundary goers the techno and thumping bass they came for. Meanwhile Mixmag X Concorde 2 stage, a.k.a. the main stage, hosted the likes of Groove Armada and Gentleman's Dub Club.
However, without a shadow of a doubt, the man of the hour award goes to Craig David and his TS5 DJ Project. As the biggest crowd of the day gathered, I remembered his first appearance on the music scene with his garage classic 'Re-Rewind' and couldn't wait to hear his hits like '7 Days' and 'Fill Me In', and he didn't disappoint! Listening to his old school stuff in his silky smooth voice was enough to complete my entire summer. Playing a mixture of old and new, he went down an absolute storm. Love having you back Craig.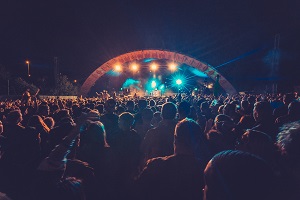 To top everything off, a DJ set by Wilkinson closed the main stage with an immense bang.
All in all, although small and on entry, feeling slightly like a village fair, Boundary was brilliant. And for a debut, it ran incredibly smoothly. Queues weren't crazy long, the buses ran frequently and got us back swiftly and the festival goers, though mostly freshers, didn't get completely out of hand. Only tweak I'd say would be a wristband system, allowing re-entry, (and for memorabilia sake!?) and some signage to say which stage was which; it took me a minute or two to work out who was performing where!
As promised, Boundary Brighton delivered a festival that felt 'boutique' and 'a little different to the normal offering'. Their enormous effort paid off. But can they top it again next year!?
I'll be there to find out.