We chat to Jodie Powell, the creative mind behind the wonderfully unique Aespia Festival. We find out what the festival's all about, what makes it so different to any other festival and most importantly why you need to go.
You can get your tickets here - remember to use FFY at the checkout for a 15% discount on tickets.
FFY We've been to lots of music festivals ourselves, but Aespia is a whole lot different to anything else around. How would you describe the concept of the festival?
JP I call it "a 24hour celebration of art and escapism" but it's more than that. It's a bit much to include the following explanation in a tag line, though! It stems from a perpetual desire to create art as a form of therapy, connection and exploration as opposed to a necessary process resulting in a product that can be worn, sold or hung on a wall. Though I actually love and appreciate the need for those products, in my own practice I prefer to focus on the therapeutic, playful elements of art-making and I have done so from a tiny age.
Aespia invites and encourages you to leave your daily trappings behind and delve deep into a world free from smart-phones, deadlines and societal pressures, and interact with the art, nature and people surrounding you. It's not about brands, big names and instant gratification; it's about immersing yourself in a safe space where you can release your inner artist and lose yourself for 24 hours. Many people can feel a bit directionless, or like they don't quite fit; people often yearn for an opportunity to misbehave and express themselves in ways that clash with their everyday lives - I mean this in the purest, most child-like way: playing, wandering, learning. Whether you're a participant or member of the crew, Aespia can provide a sense of belonging.
Our overalls aren't just a tool for protecting skin and clothes from paint and glitter: they help to remove ego and identity; to unify us; and to take us back to a time where we didn't compete for the best outfit but instead bonded over simple pleasures like creating, dancing and eating, all in a ceremonial fashion. The mysterious nature of the festival (the secret location and the intimate size) adds to this sense of stripping back of the superfluous aspects of modern life, such as knowing exactly where you are at all times courtesy of GPS. When you're lost, what do you do? You look for clues; you ask people for directions; you study your surroundings; you use all of your senses; you connect. That's what I want people to do at Aespia.
FFY The festival is in a secret woodland location just outside London – we're very much expecting the unexpected, could you give us a little sneak peek into the beautiful madness...? promise we won't tell anyone...
JP Well, using words, it's like this: a secluded little forest, packed with trees, flowers and surprises; with a labyrinth-like sense of never-ending twists and turns. Using images, it's like this: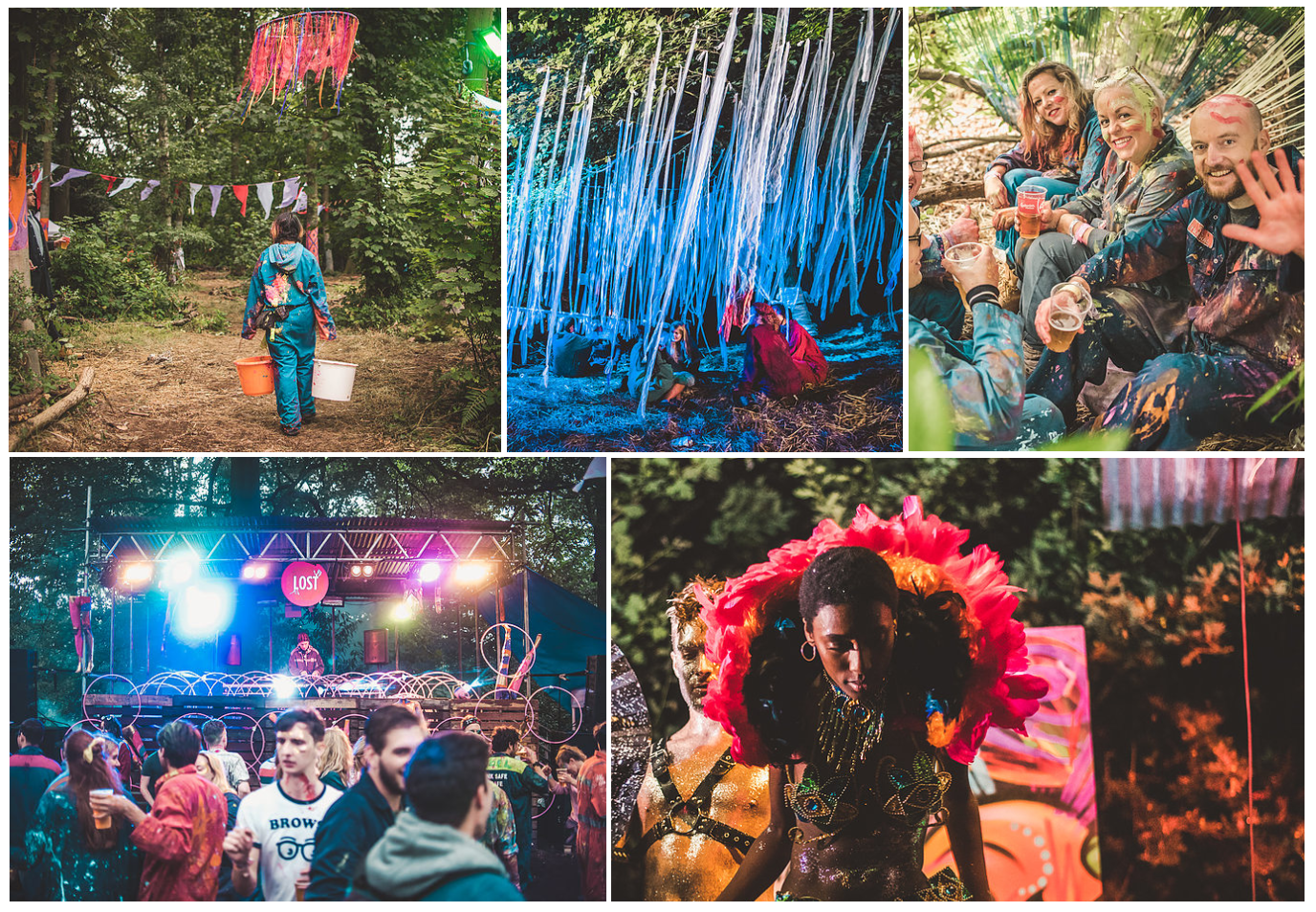 FFY It's no walk in the park to put on a music festival, what is it that makes you want to continue to do it year after year?
JP I see Aespia as an art project rather than a music festival, so I suppose it doesn't really feel like a job to me; more like a continuation of my practice from art school, where I invited people to climb inside my installations and paint me to a backdrop of live music and a make-shift bar. I've come a long way but the ethos remains the same! Though I work on it all year round (between teaching art and hosting areas at other festivals), I don't make money from it. This has its challenges of course (I totally rely on ticket sales to cover the cost of putting on the event) but what it does mean is that Aespia can remain as a passion project. I'll do whatever I can to ensure it stays as a totally independent, brand-free, sponsorship-free celebration of art and escapism. When you're lucky enough to have a team of incredibly creative, dedicated, inspiring people who help you transform and build your concept into a tangible, live event, where you can watch participants enjoy its contents, it's pretty special! I get to watch my team and my participants flourish. That is why I work so hard on it year after year.
FFY What's been the best and worst moment on your journey with Aespia Festival so far?
JP Wow, that's tricky.
Best: There isn't enough time to list all of my favourite moments but something very memorable is how overwhelmingly emotional it was to discover that two strangers who met at the festival in its 1st year, fell in love and got engaged at the festival in its 2nd year. They're coming back this year and have even invited me to the wedding! Just goes to show that you really can make beautiful, lasting friendships at festivals.
Worst: I feel like when organising something like Aespia, you have to accept its huge challenges. If I wanted to work on something steady and simple, I certainly wouldn't have gone down this route - it's such a rollercoaster! I suppose rather than one worst moment, what I find hardest are the day-to-day ups and downs of directing the project. Every day I receive amazing news (like another fantastic artist has joined the team) and disappointing news (like ticket sales haven't been on target), so in the space of an hour I flip from counting-down-the-days-excited to worrying whether it's all going to come together. As difficult as it can be, I wouldn't swap it for the world.
FFY What 3 must have items would you say someone needs to bring?
JP An open disposition (this is essential); Decent shoes (the woods are dense and uneven); Wipes (it gets messy!)
FFY And finally, what is the one aspect you want everyone to take from the festival?
JP Good question. I want everyone to learn something at Aespia, take it home with them, and assimilate it into their daily lives. Whether it's a fact or story about someone they met in the woods; a quality they discovered about themselves; a new skill they picked up from one of our many workshops; or a feeling they experienced when listening to one of our musicians or performers; these are all precious moments and should be cared for like a younger sibling.
Aespia may be a 24-hour escape but it doesn't have to be forgotten. Not all that happens in the woods stays in the woods... Enjoy it, bask in it, live it; during Aespia, and in the life you live when you leave the woods.